Priority is given to teachers who, at the time of application submission, work at one of the following school districts:
The School District of Philadelphia
York City School District
Reading School District
Harrisburg School District
Steelton-Highspire School District
Bellefonte Area School District
Bald Eagle Area School District
Penns Valley School District
State College Area School District
Participation by teachers outside the above districts will be considered on a case-by-case basis and accepted based on available space.
Workshop confirmations will be sent to you via email at the address you provided on your application on or before April 30, 2014.
Before the Workshop:
All teacher participants are expected to come to the workshop having completed the required reading and activities (some will be on line); complete information will be included in your acceptance notification
Complete and return all required paperwork by the appointed deadline
Obtain written permission by appropriate school leadership for full participation in all project activities. Note that funding is available to help offset the cost of substitute teachers when participating in required project activities. This document should be on your school letterhead.
Sample Text: "I (principal name), principal of (school name), grant permission for (teacher name) to participate in the Earth and Space Science Partnership. I support his/her attendance at a summer workshop in (topic), and his/her participation in all project activities. I understand that this commitment continues during the 2012-2013 school year and support the participation of (your name) in subsequent project activities including but not limited to three project reunions, a professional leadership development workshop, and the development and dissemination of innovative teaching ideas with his/her colleagues.
During the workshop
Bring required materials (student work/lesson plans/curriculum samples)
Contribute to the discussion and learning throughout the workshop.
Attend all days of workshops and workshop activities.
After the workshop
Attend three professional development and community-building reunions, one of which will be held on a weekend at your workshop location.
Implement the skills and curriculum developed during the workshop week during the school year.
Provide feedback/interact regularly with workshop leadership.
Our Commitment to you:
Collaboratively develop and teach relevant topical workshops
Collaboratively develop performance standards around state and national Earth & Space Science Standards
Collaboratively develop learning progressions in Earth & Space Science
Provide school based coaching and mentoring to partner teachers, guidance counselors and administrators
Ensure ESSP workshop activities address age-appropriate student learning needs
Research, evaluate and adjust ESSP activities to respond to participant needs
Treat all partners with respect and communicate openly
We welcome any educator from our partner districts that provides instruction in Earth and Space Sciences. We are targeting grades 4-9.
Each workshop will have a maximum of 24 participants. We will combine theoretical and practical understanding of scientific principles with hands-on activities that you can use with your students to illustrate scientific concepts.
One aspect of our approach that is unique is that we will focus on some of the misunderstandings that your students may have about scientific concepts. We will analyze student work to identify beliefs that they may have about the natural world. We will discuss appropriate levels of scientific understanding at various grade levels. We will also discuss ways of analyzing student work to identify shifts in scientific understanding of concepts.
Each day we will meet from 9am – 5pm and there may also be mandatory field trips and evening sessions. A workshop is a full-time commitment for the week.
There will also be assignments for you to complete prior to the workshop so that you are prepared for the topics that will be covered. This will include a mandatory reading selection along with a suite of related questions which you will answer on line. We will also ask you to collect some examples of student work that can be used to analyze student understanding of scientific concepts. We will make this information available well in advance of the workshop so that you have plenty of time to complete this work.
You can earn either Graduate Credit (2 hours) or Act 48 credit (48 hours) by participating in a workshop. You will be responsible for tuition costs associated with obtaining Graduate credit. There is no cost associated with Act 48 credit. More information about tuition costs associated with Graduate credit can be found at: http://tuition.psu.edu/tuitiondynamic/TuitionAndFees.aspx
You will receive a total stipend of $1000 distributed to you in two installments. The first installment of $800 will be mailed following the close of the workshop week to the address you provided on the workshop application. The remaining $200 will be mailed to the same address upon completion of the project's required data collection in late October. ESSP reserves the right to modify the stipend total based on an individual's participation in the project.
Participation in the workshop is free. There will be some out-of-pocket expenses that you can use your stipend to cover. For planning purposes, here is a list of what ESSP covers and what expenses are your responsibility.
ESSP Covers:
Fee to participate in the workshop and supplies needed for workshop
Housing costs
Some food costs
Travel costs up to $300
Participant Covers:
Some food costs
Tuition costs if you decide to take a workshop for Penn State Graduate credit
Travel costs not covered by the $300 travel stipend
We anticipate that the 2014 Climate workshop will be very popular. In order to maximize the opportunity for everyone's participation, ESSP will be enrolling applicants in only one workshop this summer. The topic and materials will be identical for both the University Park and Brandywine campus offerings.
For Summer 2014, the workshops are located either at Penn State University Park or Penn State Brandywine.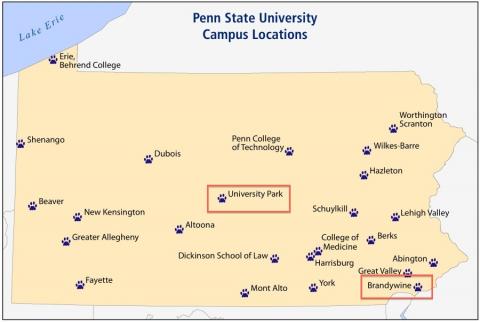 Penn State University Park is located in State College, PA in Central, Pennsylvania (see map and driving instructions).
Penn State Brandywine is located in Media, PA, (see map and driving instructions)
We encourage you to invite your colleagues to attend the workshop. We have found that some of the deepest and most lasting changes to one's teaching practice are associated with having a support network in place after the workshop has ended.
Please contact Sue Lauver at essp@psu.edu or (814) 867-4598.